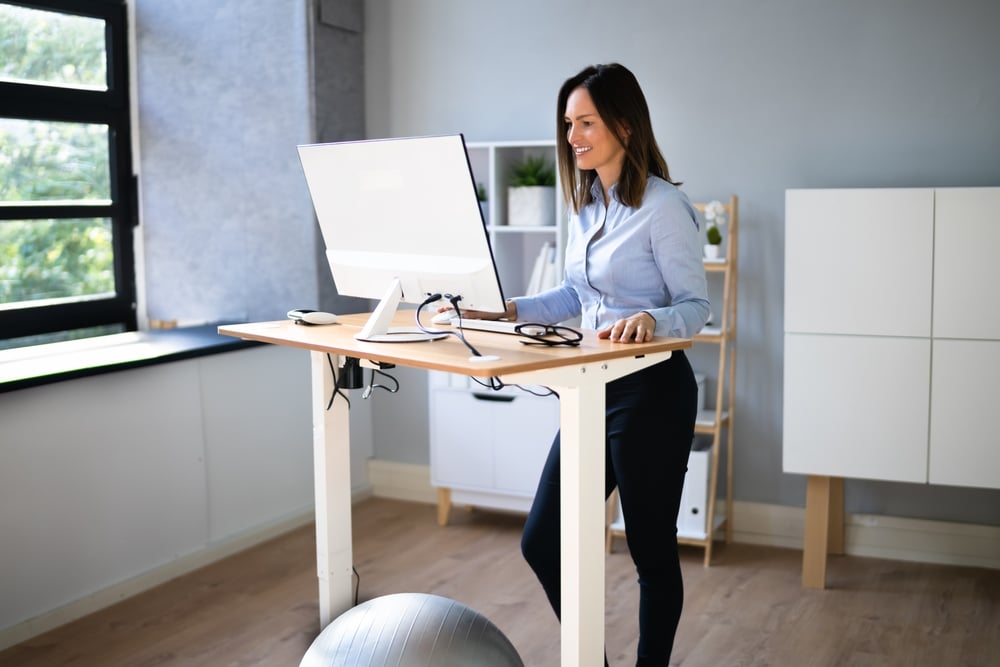 There are so many ways to spruce up your office to become more productive and increase your overall mood. Lets us help you out with the brainstorming so you can just right into your spring reset.
Easy Office Upgrades for Spring
Private office upgrades don't need to be expensive, complicated or even permanent. Sometimes, all you need is a new perspective and a few outside-the-box ideas to get you started—and we've got a few!
Ergonomic Chair and Desk
Is your desk and chair combination killing your back? Maybe it's time to get serious about your setup.
An ergonomic workspace enhances comfort when you're sitting all day, but its placement at the desk is what makes it work.
The monitor should be at arm's length away, and the top of the screen should be more or less level with your eyes.
Your chair height should make your knees about level with your hips. Use a footrest to create a 90˚ angle as you sit. There should be clearance between your knees and the desk. If there isn't, you'll need to adjust the height of the desk or chair.
Chair arms should allow you to rest your forearms lightly so that your wrists are straight with your hands either at or slightly below elbow level.
Place objects you use often close at hand to minimize excessive reaching.
Your choice of chair is critical too. It should support the natural curve of your spine and be comfortable to relax into.
Standing Desks
Even when you have a comfortable desk area, standing up and moving around periodically is always good. Consider investing in a height-adjustable desk to stand or sit as the mood strikes you.
If you work from a laptop, you might think about a more mobile desk configuration, like the portable workstations from Intension Design. Their tripod standing desks are incredibly sturdy and lightweight, and you can take them just about anywhere if you feel like changing your environment. Their standing desk pro offers a larger work area, but the standard model is better if you need to use it on the go.
Amp Up Your Office Style
Your work environment has a lot to do with productivity. Colors, artwork, design, and décor can stimulate the mind, and who knows where those new ideas will take you!
The science of color psychology tells us that blue is the most productive color but do what makes you happy. Wall murals or dramatic statement pieces can also transform a space without a massive investment.
And if you're looking for ways to maximize productivity and start somewhere fresh, speak to the team at Werkstatt360 about a private office membership. Depending on your needs, we can provide live phone answering, meeting rooms on demand, and a professional team that will be with you along the way. However you like to work, we've got solutions that help you do it better.